Step off Woodstock's historic high street and into Enhance and you'll find yourself in a friendly, relaxing and peaceful sanctuary where Leanne and her team have experience in caring for their clients for more than 24 years. In that time they've gathered a huge amount of skill and experience and can offer expert advice and judgement to ensure every client gets the best care and treatment. In addition to the wide range of beauty treatments, laser and nail services is a selective array of beauty products and gifts always with advice on hand to help you find the right product for you or the perfect gift for someone special. Please feel free to pop in to browse or ask for advice.
Oktober Clack
Beauty Therapist
Oktober has worked in salons and spas for a couple of years now. Her speciality is nails.
Leanne Bush
Salon Owner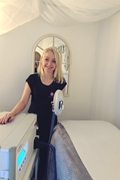 Leanne has worked in the beauty industry for 24 years including spa management, lecturing in beauty therapy and managing laser clinics. She specialises in laser and electrolysis. Leanne passion is travel and horse riding and she loves to combine the two.
Jana Prosser
Nail Technician
Jana is our nail technician and her speciality is our Calgel system, Jana offers manicures, pedicures and spray tanning. In her spare time she is a busy mum to her two children.
Natasha Hall
Senior Therapist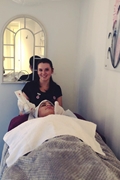 My name is Tasha, I have been a beauty therapist for 7years. I have trained specialising in skin care as I a passion for helping my clients achieve their skin care goals. I also love nail art. I have worked on two cruise ships as a beauty therapist as I also love to travel. New Zealand being my favourite country. In my spare time I enjoy restoring old furniture and shopping for antiques. I love cats and have recently got two little kittens.
3 High Street, Oxfordshire, Woodstock
01993 815815
Monday

Tuesday

Wednesday

Thursday

Friday

Saturday

10:00 - 17:00

10:00 - 19:00

10:00 - 17:00

10:00 - 19:00

10:00 - 17:00

09:00 - 14:00